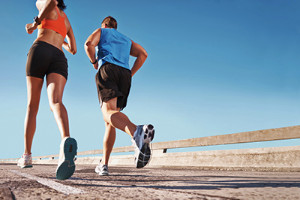 Runners depend strongly on the shoes they wear to help them run efficiently, effectively, and safely. But it's not enough to simply go out and buy a pair of running shoes, because they may not work well with your specific foot type. Three categories of running shoes are motion control shoes, stability shoes, and neutral or cushioned shoes. If you have no discernible foot problems, comfort is key. The best choice for normal feet is likely to be a stability shoe, which will provide both adequate motion control and cushioning. High arched feet have a narrow band between the forefoot and heel, reducing natural shock absorption with each step. Therefore, experts suggest wearing cushioned running shoes. For the runner who has flat feet, a  high-stability or motion-control shoe is believed to be most beneficial. Harder and stiffer midsoles lessen the chance of the foot rolling inward. If you are unsure about which running shoe is best for your foot type, please consult a podiatrist who can examine your feet and offer guidance.
You should always make sure your running shoes fit properly in order to avoid injury. For more information, contact one of our podiatrists from Princeton Foot & Ankle Associates. Our doctors can provide the care you need to keep you pain-free and on your feet.
Choosing the Right Running Shoe for Your Foot Type
Improper shoe sizing can cause a myriad of problems for your feet. Shoes that don't fit you properly can lead to muscular imbalances in your body, which can result in foot, knee, and hip injuries.
Tips for Finding the Right Running Shoe
Make sure you have a thumb's width of wiggle room between the end of your longest toe and the front of the shoe.
There should be little to no slipping at the heel
Don't assume your size in one shoe brand will be your size in another
Do not lace up your shoes too tightly
Walk around in the store with your new shoes before you buy them
If you have any questions please feel free to contact our one of our offices located in Princeton and West Windsor, NJ . We offer the newest diagnostic and treatment technologies for all your foot and ankle needs.
Read more about Choosing the Right Running Shoe